latest news
A Year With Roof Edge: Colin Pirrie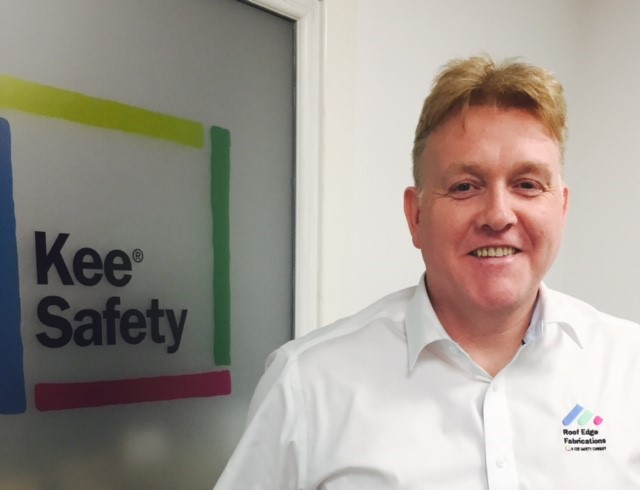 Colin Pirrie joined Roof Edge at the start of 2017 as Business Development Manager, bringing a wealth of experience with him and a drive to increase the volume of clients and turnover to the business, by seeking out new prospects and managing existing accounts.
In the year since he entered the role, Colin has brought several new clients on board and overseen many projects. We asked him to share his thoughts on the last 12 months, and what he thinks the future holds for him and Roof Edge.
Colin Pirrie: Business Development Manager
2017 was a banner year for Roof Edge, and one of the biggest since the company joined the Kee Safety Group in 2014. It was a privilege to be a part of it, and to be able to bring my own expertise to bear and help expand the company's opportunities.
Below are a few of the new client projects we have completed or are currently part of:
Lower Dens Works, Dundee. Image: Scottish Construction Now
Lower Dens Mill, Dundee
In early 2017, we began working with a large national construction company on an historic building project in Dundee. The scope of the project was to renovate and convert the building (previously a Jute mill built during the 1800s) into a hotel and serviced accommodation.
The original enquiry was for internal eye-bolts as part of a tender which we won; but after several site visits, and a close partnership with the quantity surveyor, site manager, contract manager and architects, it developed into supplying fall protection and access solutions required for the project consisting of KeeGuard, KeeLine and ladders to date.
Anchor Line building, Glasgow. Image: Grace's Guide
Anchor Line Building, Glasgow
We have been consulted over several projects and forged a great working relationship with a global construction services company resulting in successful installation of our core products such as KeeGuard, KeeWalk and Step Over installations.
The most recent project we have been involved in is the Anchor Line building in Glasgow's Merchant City which has proven equally challenging and rewarding due to the historic listed status and restrictions of the building.
International Photographic Developers, Grangemouth
A slightly trickier task was for an enquiry to design a bespoke access platform for an international photographic development company based in Grangemouth.
We carried out several visits to accommodate our client as the platform was to be installed in an area where the use of electronic devices such as phones and cameras was prohibited, therefore a lot of sketching went into this project!
The client was happy with our proposal and booked the order without too many design tweaks being required and has since asked us to price for another similar platform.
KeeLine at Cullen Packaging. Image: Kee Safety
Cullen Packaging, Glasgow
One of our more recently completed projects was for Cullen Packaging Ltd. based in Glasgow, who are one of the world's leading innovative, conceptual design and packaging manufacturers.
They produce a large range of products using both corrugate and pulp across the UK for the NHS, industry and leading supermarket chains and export to many industries in countries across the world.
Cullen Packaging Ltd. are the only company in the UK that can offer both internal and external packaging manufactured from the same facility and are proud to be the only packaging company in the UK to have the EU compostability certificate EN13432.
Roof Edge were consulted to propose a safe working at height system for operatives requiring access to the roof for plant maintenance work.
In addition, gutters in certain areas which required regular clearing of debris from trees were difficult to reach, therefore additional consideration was given to these areas.
We surveyed the site and proposed the installation of KeeLine systems to be top-fixed via rivets and designed specifically for the composite profiled sheet roof structure.
The project required several site visits working with the client to determine a schedule of work that was both effective and within the client's budget constraints and resulted in a system completed within days of placing the order.
These projects have been hugely rewarding in respect of working closely with the clients to overcome challenging problems, as well as bringing the client on board and building trust to the point they will consult with us first for future fall protection enquiries.
My first year with Roof Edge has been an absolute success and I have proud of what I have achieved both personally and as part of the company. With any luck, 2018 will be an even bigger and better year for the company, and I look forward to being a part of it.
If you have an enquiry or ongoing project and would like Roof Edge to offer advice or solutions, use our online contact form or call us on 0141 949 1014.