latest news
Are fittings better than fabrication for safety barrier construction?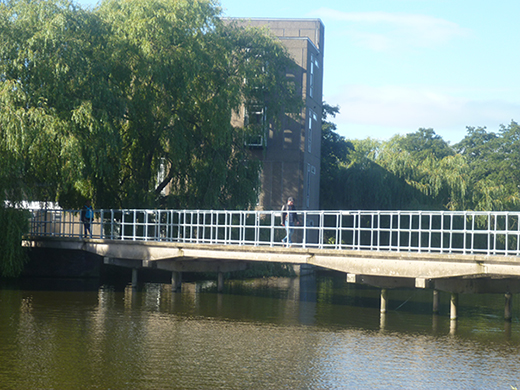 By Mark Dolan, General Manager, KeeSystems Ltd
This may seem like a strange topic to be writing about, bearing in mind our name is Roof Edge Fabrications, however since we became part of the Kee Safety Group we have been introduced to the benefits of fittings for the construction of handrail and guardrail systems so I thought I'd share these with you.
Handrail and guardrail systems are an essential part of protecting people from hazards which is why you need to be confident that they are sturdy enough to protect people at all times, and that their integrity is maintained for many years after their installation.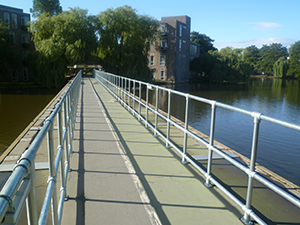 Why not fabricate?
Previously, when asked to provide a handrail or guardrail system we would naturally have looked to fabricate the system. After all fabricated systems offer a strong and stable solution and can be quick to install as most of the work is undertaken off-site. While this is certainly true for some forms of construction such as, ladders, gates, industrial gratings and safety flooring in high risk heavy traffic sites, it is not necessarily the case when it comes to barrier systems.
Fabrication is a complex process and does take time. A site survey is needed to be able to prepare the detailed plans before the individual sections can be prepared. Once the design is completed and agreed upon, sections of the system are fabricated off-site before being transported to site. Once on site, the sections are assembled according to the plans by a skilled installer and then welded, which requires special work permits.
When a barrier system is fabricated it involves cutting. This breaches the metal's anti-corrosion coating which is then further compromised by welding. Corrosion properties can be restored by applying zinc rich paint but this has to be applied meticulously so that it protects the entire section including the tube, not just the external welded area. If the paint isn't applied correctly, there is a chance that the tube could still be unprotected and will corrode over time. Unfortunately the corrosion won't become evident until the handrail and guardrail systems breaks of falls apart.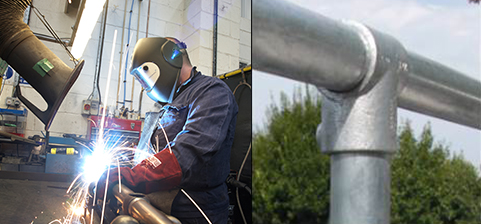 So are Fittings the Answer?
For the installation of safety handrails and guardrails, I now believe they are. Fittings offer a more flexible and quicker solution and are now becoming the preferred option for quick and flexible barrier installations.

The design is simple and doesn't require detailed site surveys and plans. A layout drawing is all that's required to show where the uprights should be placed. In addition, there's no need for special work permits as assembly is carried out by simply tightening the internal set screw to lock the respective fitting safely and securely onto the tube to create a strong, stable and safe structure. As there's no cutting or welding of components, the integrity of all coatings is left intact.
Fittings are generally hot dip galvanised iron castings which means that barrier systems constructed from these components are more resilient to corrosion and the elements, and can last up to 7 times longer than fabricated ones.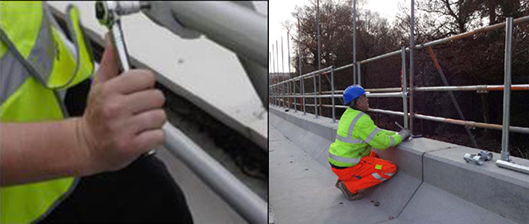 Standing the Test of Time
Proof of the longevity of handrail and guardrail systems constructed from fittings can be seen at Niagara Falls, where handrailing from KEE KLAMP fittings was installed in the 1950's to protect the public walking alongside the Falls up to the Crow's Nest viewing area.
Fittings were the ideal choice as they can to deal with this extremely challenging environment which includes daily water spray and seasonal freezing. This is the perfect example of how safety barriers and handrailing constructed from fittings really can stand the test of time.
While I don't believe fittings will completely remove the need for fabricated structures, they are undoubtedly quicker and easier to install when it comes to handrail and guardrail systems. They also offer the highest level of safety and are an extremely cost effective solution.
Click here to see our video show why fittings offer at better solution – Fittings v Fabrications