latest news
How to ensure equipment is safe to use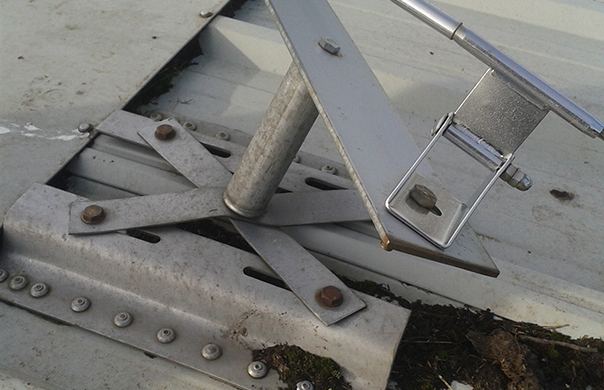 By Mark Dolan, General Manager, Roof Edge Fabrications
Once you have had a fall protection system installed, you need to make sure that it is safe to use at all times. To do this you will need to compile a schedule for regular inspection and recertificaiton of the equipment.
Recertification and inspection is much more than merely ticking a box and issuing a certificate. There are a number of regulations and standards which you will need to meet in order to ensure continual compliance.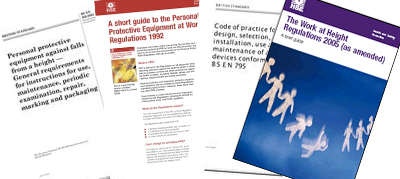 Your Legal Duties
Regulations and standards will differ depending on the equipment installed, but to follow are the most common:

• BS EN 7883:2005 Code of practice for the design, selection, installation, use and maintenance of anchor devices conforming to BS EN 795
• BS EN 365: 2004 Personal protective equipment against falls from a height
General requirements for instructions for use, maintenance, periodic examination, repair, marking and packaging

• Provision and Use of Work Equipment Regulations 1998
Maintenance - Regulation 5
Inspection - Regulation 6
Information and Instruction - Regulation 8

• Work at Height Regulations
Competence - Regulation 5
Inspection of Work Equipment - Regulation 12
Duties of Persons at Work - Regulation 14
Requirements for Personal Fall Protection Systems - Schedule 5

• Personal Protective Equipment at Work Regulations 1992 (as amended)
Compatibility of personal protective equipment - Regulation 5
Maintenance and replacement of personal protective equipment - Regulation 7
Information, instruction and training - Regulation 9

• Workplace (Heath, Safety and Welfare) Regulations 1992
Maintenance of workplace, and of equipment, devices and systems - Regulation 5

If you don't comply with legislation such as the above, you could be held responsible if an accident occurs, particularly if the equipment is found to be faulty and/or uncertified.


Competency
Work at height is a specialised area of health & safety so it is important that you ensure you only use a competent company/person to assess the risks.

For a company or person to be competent they should have the relevant certification as well as experience. In the case of the company they should ideally be affiliated to a recognised industry representative group(s) so that they are updated regularly on changes to legislation and standards that relate to their line of business, particularly the services and products they offer.
If you're not sure about competency, EN365 sets out clear guidance on the required capabilities of the person carrying out periodic examination of systems as follows:

"This person should be capable of identifying and assessing the significance of defects, should initiate the corrective action to be taken and should have the necessary skills and resources* to do so."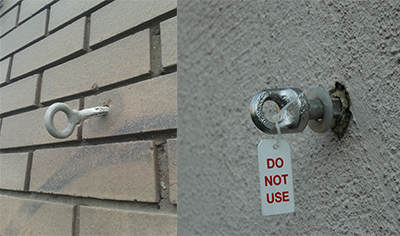 "A competent person may need to be trained by the manufacturer or his authorised representative on specific PPE or other equipment, e.g. due to its complexity or innovation, or where safety critical knowledge is needed in the dismantling, reassembly, or assessment of the PPE or other equipment, and may need to have that training updated due to modifications and upgrades."

Instructions for Periodic Inspections
When it comes to periodic inspections, instructions must be clear and concise and include:
a warning emphasising the need

for regular inspections and that the safety of those using the equipment depends upon the continued efficiency and durability of the equipment.

a recommendation with regards

to the frequency of inspections.

This should take into account legislation, equipment type, frequency of use as well as environmental conditions and should include a statement that periodic inspections should be carried out a least every 12 months.

a warning emphasising that

periodic inspections must only be carried out by a competent person

an instruction when deemed

necessary by the manufacturer, such as due to the complexity, innovation of the equipment or where critical knowledge is required for the dismantling, reassembly or assessment of the equipment (e.g. a retractable type fall arrester), that

periodic inspections must only be conducted by the manufacturer or person/organisation authorised by the manufacturer.

a requirement to check the

legibility of the product markings.
* Resources would include the correct calibrated equipment to carry out the task, such as pull testers to complete a pull test of an eyebolt or swage end fitting of a life line system.


Instructions for Repair
If the manufacturer allows equipment to be repaired by third parties, the repair instructions must include a statement that repair should only be carried out by a competent person who has been authorised by the manufacturer, and that the repair procedure must be in accordance with the manufacturer's instructions.
Inspection Frequency
The frequency of recertification/inspection will depend upon a number of factors. As a minimum we recommend recertification of equipment should take place every twelve months but this will be dependent upon frequency of use and environment. For example, equipment being used regularly in a coastal area where it is exposed to the elements would require more frequent inspections.
And Finally
Your responsibility to providing a safe working environment does not end with installing fall protection equipment and systems. Once equipment has been installed it must be maintained at least once a year by a competent company/person and all those using the equipment must have the appropriate level of instruction, supervision and training.
If something does happen and there is a fatality, your company's health and safety culture will be examined thoroughly under the Corporate Manslaughter Act. and you could be held accountable if it is found to be lacking.
Click here to download our Recertification, Maintenance & Inspection Guidance document