latest news
Preventing slips and trips on roofs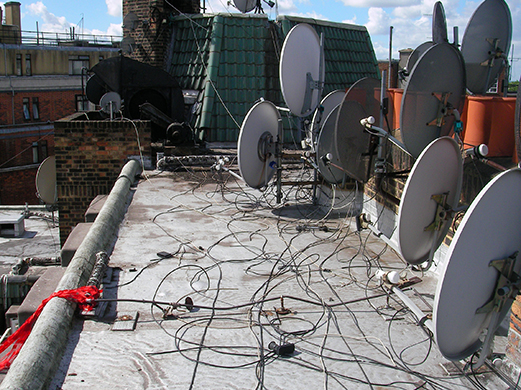 By Mark Dolan, General Manager, Roof Edge Fabrications
When working on roofs, falls from height is of course an important issue that needs to be addressed, however, this should not be your only safety concern, slips and trips also pose a serious risk for those working on roofs.



What are the hazards on roofs?
Many of us recognise that slips and trips are a major cause of injury in the workplace, but not everyone associates the problem with working on roofs. If you slip and trip on a roof the consequences can be far more serious, which is why companies need to identify potential risks and take appropriate action to reduce the possibility of a slip or trip.
Regular access onto a roof is required by a range of people including maintenance engineers, roofing contractors, and even security guards, but while most companies put systems in place such as edge protection to allow safe access onto the roof, they often forget what happens when people are walking across the roof.
Today's roofs are complex areas. Many are used to house a vast range of plant and equipment which present a variety of hazards such as pipework, cabling and ducting as well as featuring changes in roof level, all of which make it tricky to move safely around the roof. When work is being carried out on a roof, equipment such as drills and hammers, extension leads and materials can also add to the hazards.

Before any work is undertaken on a roof you need to carry out a risk assessment in order to determine how the work is to be carried out safely and what protection is needed. As part of the risk assessment process, you should also identify any slip or trip hazards.

Preventing rooftop slips and trips
Some methods of prevention are pretty much common sense. For example, always make sure workers wear footwear which is suitable to the task and, it goes without saying, work shouldn't be carried out on a roof in adverse weather conditions such as snow, ice or wind as these can make the surface slippery. Similarly, membrane roofs can become slippery in wet conditions so they should also be avoided in these circumstances.
If you have identified an area where there is the possibility of a slip or trip, and you're unable to eliminate the risk entirely you need to either prevent access to the area, or provide a safe route across the roof or to the required work area.
Anti-slip walkway systems are ideal for providing a safe demarcated route when regular access is required across a roof. Many systems are modular in design, allowingthem to cater for changes in roof level or configuration. If a walkway system is required where there is a potential fall risk, for example where a gutter may run along a roof's edge,the system can be installed in conjunction with guardrails to enable work to becarried out safely.

If you need to separate people from a hazard such as plant or machinery or fragile materials, demarcation offers a cost effective, highly visible solution. Demarcation is quick and easy to install and can provide a demarcated route around the hazard. When using demarcation on a roof you must be sure to place it at least 2m from any fall hazard.
The importance of good housekeeping cannot be stressed enough. Employees and contractors must be encouraged to put away tools once they have finished with them, dispose of any unwanted packaging and take relevant precautions to notify others to anypotential trip hazard as a result of their work.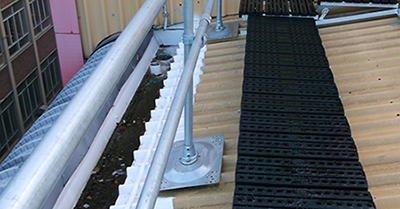 Don't slip up
The dangers of working at height are well publicised, but much of the emphasis is on preventing falls from height so people often overlook the crucial area of slips and trips. Including slips and trips as part of your work at height risk assessment and taking simple steps such as installing level, non-slip walkways can go a long way in either eliminating or reducing the risks – and don't forget, if you're ever in doubt, always seek professional advice.