latest news
Safe access and maintenance with Kee Step-Overs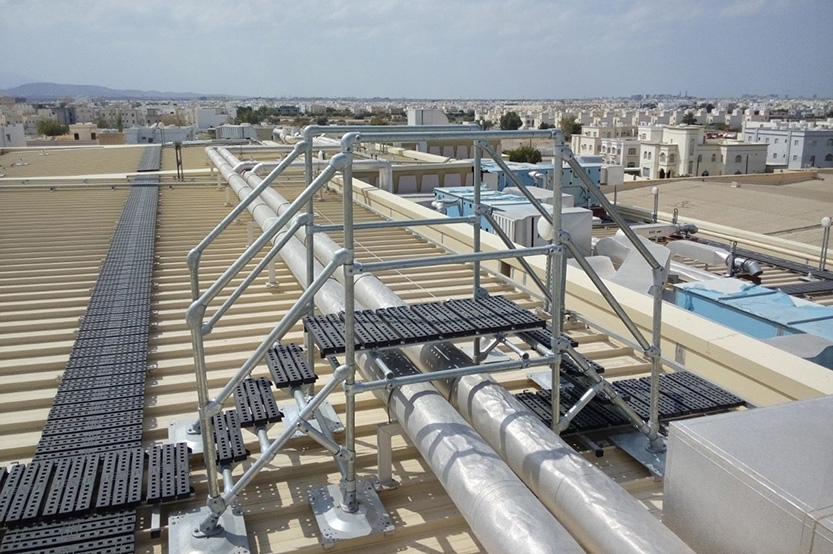 Today's roofs contain many trip hazards and various changes in roof level, making safe access a complicated matter.
To solve this, Roof Edge now supplies the Kee Walk Step-Over, a range of modular, off-the-shelf step-overs, suitable for a range of roof types including concrete, membrane, metallic and composite.
The Step-Overs are available in kit form to accommodate many different height requirements, and come pre-assembled for easy installation. Every kit includes a double handrail and comes with toe-boards, as well as a choice of nylon or aluminium treads and base feet options to suit different roof types.

With adjustable step sections, and non-penetrative fixing options, the Step-Overs are modifiable to not only protect those accessing the roof, but also to protect the roof itself from foot traffic and potential damage by providing a clearly defined access path.

Built with Kee Klamp® tubular fittings, with a simple internal set screw, the Step-Overs are strong and stable. Tubular fittings also eliminate the need for welding or specialist tools, saving time and money.

By combining the Step-Over with other Kee Safety products, such as KeeGuard, Kee Gate and Kee Walk, you can achieve a complete fall protection and safe access solution.
The Step-over range has been designed in accordance to EN 14122-2/3:2016 for assured safe operation.
For more information, call us on 0141 949 1014 or use our online contact form.