latest news
The Roof Edge guide to fragile roofs: part one
By Chris Paterson, Business Development Manager, Roof Edge Fabrications

On average each year nine people die after falling through roof lights or from fragile roofs. Many more suffer serious, life-changing injuries.
These accidents usually happen on the roofs of factories, warehouses and farm buildings, and workers often fall through the roof whilst repairing, maintaining or installing equipment, cleaning gutters and skylights, or even while surveying the roof for work to be done.
These falls can completely change, and even end, lives; however, they can be easily avoided by following some very simple tips and competent guidance.
If you are responsible for roof repairs as either the owner or occupier of a building, and believe you may have a fragile roof, there are a few simple steps you can take to meet your responsibilities.
What constitutes a fragile roof?
A roof is considered fragile if it is not strong enough to support a person's weight. This includes:
Old roof lights (sometimes painted)
Non-reinforced fibre cement sheets
Asbestos cement sheets
Corroded metal sheets
Glass (including wired glass)
Slates and tiles in poor condition

#1
You should always assume that the roof in question is fragile, unless you are absolutely certain it is not.

#2
Do not go out onto a fragile roof yourself, or expect your workers to do so, without having a thorough risk assessment done and selecting the appropriate control measures to either prevent falls or reduce the consequences and ramifications of a fall.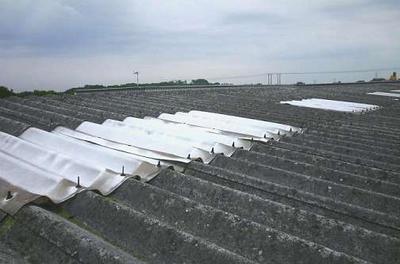 #3
Remember you don't always have to go out onto a roof for work like gutter cleaning, inspecting or surveying. These can often be done from ground level, or using a mobile elevating work platform (MEWP), or a tower scaffold. Short duration work can often be done using a secured ladder or one with a 'stand-off' device.

#4
Never walk along the line of fixing bolts above supports, or along the ridge. Would you walk along a tightrope?
What can happen if these simple steps are ignored?
A contractor died when a plastic roof panel on a car port he was working on gave way and he fell just two metres. The client, an estate agent, had failed to ensure that the work was planned and organised with the right equipment, or that the contractor knew how to do the work safely. The client was prosecuted and fined £75,000 and had to pay over £11,000 costs.

Remember: Roof Edge has a range of products and services which are designed to protect people working at height on fragile roofs, or near fragile surfaces. Find out more here.