latest news
Why you need to recertify collective fall protection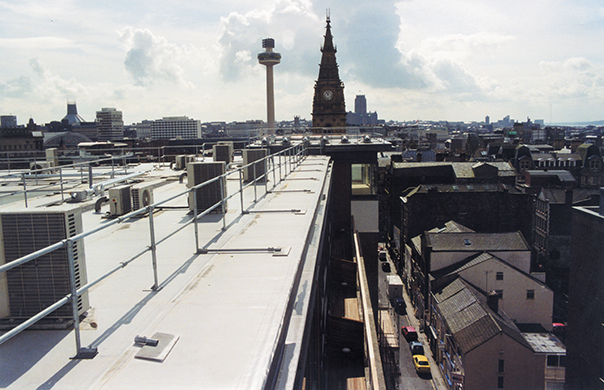 By Mark Dolan, General Manager, Roof Edge Fabrications
Over the past couple of weeks I've been looking at the important issue of annual inspection of fall protection equipment and that you have a legal duty to ensure equipment is safe to use at all times.

Last week I covered fall arrest and fall restraint systems. As these types of equipment depend on correct usage, many people can understand why they need to be maintained regularly. This often isn't the case though when it comes to collective forms of protection such as edge protection.

Why inspect guardrails?
Collective protection is the preferred solution when it comes to safeguarding those working at height as these systems are not reliant on the user. In addition, as they're not comprised of a number of moving components, little can go wrong, right?
Wrong. Although collective systems such as guardrails are durable they still need to be inspected by a competent person as faults can, and do, occur. This is why we recommend that edge protection is recertified at least every 12 months.

What can go wrong?
Again competency is essential, so always make sure you're annual inspections are carried out by a competent person. This person should be able to identify component or system faults as well as any additional issues that could potentially cause a problem.
Roofs tend to be accessed by a number of different people and trades, many of whom don't necessarily understand the complexities of these systems. We've come across cases where contractors have removed a rail on the system or even connected additional equipment such as aerials to the guardrail. These may seem unimportant but they can in fact have a serious impact on a system which in turn will compromise its performance.

You may also find that over years additional equipment such as solar panels have been installed outside the protected area. If this is the case, then people working on the roof or this equipment are likely to be working in unprotected areas.

What should you look for?
When employing someone to carry out an annual inspection of your system you should expect the following to be inspected and checked:
The original installation details to ensure the

systems is as originally installed

Signs of tampering or modification by other

contractors

Counterweights are all in the correct position, as

detailed in the original layout drawing

All base feet are in contact with the roof membrane

All the grub screws are in place, greased and

sufficiently torque

The height and level of the system and the leg

centres follow the manufacturer's recommendations

Any galvanised components which show signs of

corrosion can be wire brushed and galvanised spray/paint applied if appropriate. Significant signs of rusting should be included in the report

Where toe-boards are fitted, the brackets

supporting the toe-board should be checked, greased and sufficiently torque
Following the inspection and recertification, you should be given a certificate of compliance. If work is required then this should be included in a report.
Meeting your legal duties
Regulation 5 of the Workplace (Health Safety and Welfare) Regulations, the Work at Height Regulations and BS EN 365 require that all equipment is maintained and inspected regularly by a competent person.
Whether its personal protection such as lifelines or anchors, or collective measures including guardrails, fall protection is essential for anyone working at height so you want to be confident that the system is safe and, in the event of a fall, will protect the person from serious injury or worse. The only way to do this is to make sure you have your system inspected annually and that the inspection and recertification is carried out by a competent person.