latest news
Why you should inspect fall protection systems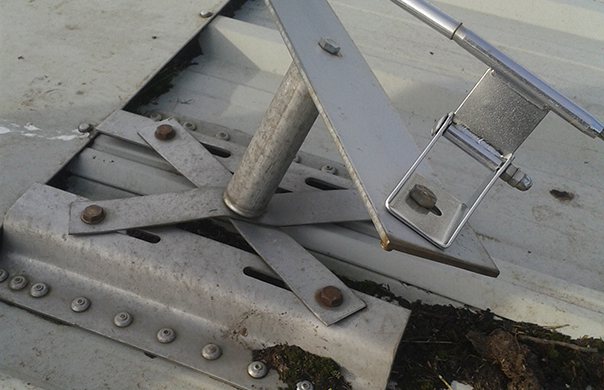 By Mark Dolan, General Manager, Roof Edge Fabrications
We are all used to having our car serviced by a professional and understand that this can help to guarantee the life of the vehicle and also ensure it continues to be safe to use. A fall arrest or restraint system is no different, it's only natural that over time or with regular use parts of the system will need to be adjusted or replaced, just like the tyres on a car.
So what is required as far as the inspection and testing of fall restraint/arrest systems is concerned?
Legal Requirements
When you're working at height you need reliable and effective systems to ensure the work can be carried out in complete safety, Once a system has been installed you are legally required to make sure that the system is safe to use at all times.
Below are examples of the legislation and standards you should follow in order to be compliant.
Work at Height Regulations
- Competency – Regulation 5
- Inspection of Work Equipment – Regulation 12
- Duties of Persons at Work – Regulation 14
- Requirements for Personal Fall Protection Systems – Schedule 5
Workplace (Health, Safety and Welfare) Regulations
- Maintenance of workplace, and of equipment, devices and systems – Regulation 5
Personal Protective Equipment at Work Regulations
- Compatibility of personal protective equipment – Regulation 5
- Maintenance and replacement of personal protective equipment – Regulation 7
- Information, instruction and training – Regulation 9
Provision and Use of Work Equipment Regulations
- Maintenance – Regulation 5
- Inspection – Regulation 6
- Information and instructions – Regulation 8
- Training- Regulation 9
BS EN 7883: Code of practice for the design, selection, installation, use and maintenance of anchor devices conforming to B EN 795
BS EN 365: Personal Protective Equipment Against Falls From a Height.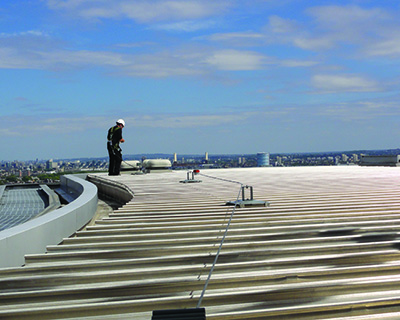 What should be inspected?
Fall arrest and restraint systems generally feature an anchor point, a lanyard (fixed length for fall restraint systems) and a fully body harness. You should have your system inspected regularly to make sure they have not been damaged, tampered with, or even deployed.
How often these inspections are carried out will depend upon how often the system is used, and the environment. For example, visual inspection must be carried out before each use, while certification of a system should be carried out at least annually.
PPE should also be inspected before each use, and more detailed inspections carried out at least every six months. If the PPE is used frequently, interim inspections would be required every three months.
As with a car service, inspection and certification should only be carried out by a competent person or company. Only a competent person will fully understand the working of the system and be able to spot any defects or potential problems.
A competent person will carry out a full inspection of the system and any PPE used in conjunction with the system and should include:
thorough inspection of the structural connection of the system
checking the system runs smoothly over all intermediate brackets
pull testing of swage terminations in line with the manufacturers recommendations.
checking all shock absorbers inspecting the cable for any signs of damage, kinks or wear
checking all accessible fixings
looking out for any signs of corrosion to galvanised components
pull testing end fixings to concrete/brickwork/ structure

re-tensioning a loose cable

looking for any cuts, stains, fraying or broken stitching on lanyards and harnesses
checking for any signs of damage to karabiners, screwlink connectors, scaffold hooks
inspecting the sheath and core of a kernmantel rope for any signs of damage
checking that all PPE being used is compatible with one another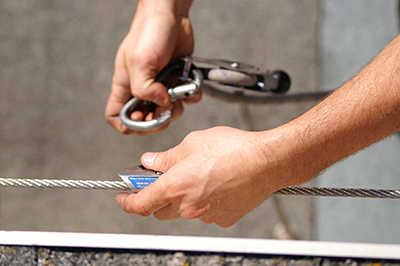 Ensuring safety
Installing a fall protection system does not mean you have met your duty to protect the health, safety and welfare of your employees and anyone who might be affected by your work. You also have a duty to ensure that the system is inspected and maintained at least once a year by a competent person, only by doing this can you be sure that when someone clips onto the system, it won't fail if they fall.
Please click here for information on our inspection, maintenance and recertification service.