latest news
Work at Height - Correct Equipment Selection Part Two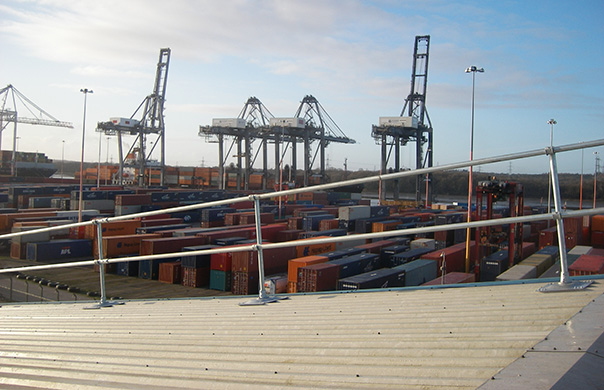 By Mark Dolan, General Manager, Roof Edge Fabrications
Last month I started this current Blog series with a look at the Hierarchy of Control for work at height equipment selection. The first consideration should always be to see if you can in fact avoid work at height, if this is not possible then the next step would be Collective Measures. In this second part of the series, I'm going to discuss Collective Measures and look at the options available.
What are Collective Measures?
According to the HSE, "Collective measures protect more than one person at any time, eg. scaffolding, airbags, nets etc and they are usually passive (ie they require no action by the user to work effectively."
In other words, collective protection involves equipment or systems which can protect more than one person and generally require no user participation. These measures are preferred as they do not rely upon people using them correctly, require very little training and minimum maintenance. For example:
Edge Protection
These are generally guardrail systems which enable work such as routine maintenance of plant and equipment to be carried out safely. Options can be freestanding or fixed, but whichever system is chosen, it will physically prevent a person from reaching the edge of the roof or area where there is a fall hazard.
MEWPs
This stands for Mobile Elevated Work Platforms which include cherry pickers, scissor lifts and vehicle-mounted booms. These are an effective method of access as long as they are positioned and used correctly, and operatives have sufficient training.

Scaffolding
Scaffolding is typically used for working on gutters, windows, painting the exterior of a property, or general maintenance work. There are, unfortunately, a high number of work at height deaths which involve falls from scaffolds. Whenever you use scaffolding, ALWAYS make sure that it's erected and dismantled by a competent person and that all work on a scaffold is carried out under proper supervision.

Rooflight Protection
As the name suggests, these are designed specifically to protect those accessing near to fragile materials such as rooflights/skylights. Rooflight covers provide a barrier which prevents people from falling through the rooflight itself. Systems are often modular in design which allows them to fit virtually any configuration.

Following the Hierarchy of Control
If collective measures such as those outlined here are not possible, then fall protection in the form of fall arrest systems can be considered but only as a final option.
In next month's Blog I'll give an overview of these types of system and explain the difference between fall restraint and fall arrest.