latest news
Working safe on fragile industrial roofs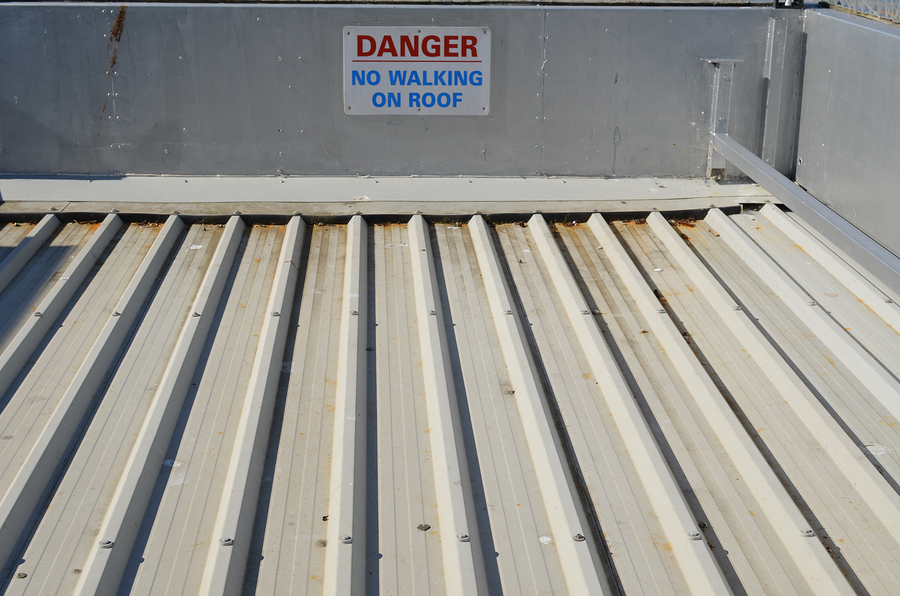 By Brian McLean, General Manager, Roof Edge Fabrications
Each year, on average, nine people will fall to their death through fragile roofs. Scores more will suffer serious, life-changing injuries.
Incidents like these usually occur on the roof of industrial buildings such as warehouses and factories, and are usually workers falling through skylights or roof panels whilst repairing, maintaining or installing equipment.
Some people believe they are safe if they avoid the edge of a roof, but did you know more people fall through a roof than over the edge?
What constitutes a fragile roof?
A roof is considered fragile if it is not strong enough to support a person's weight. This includes:
Old roof lights (sometimes painted)
Non-reinforced fibre cement sheets
Asbestos cement sheets
Corroded metal sheets

Glass (including wired glass)

Slates and tiles in poor condition
Though these falls can change, and even end, lives, they can be easily avoided by following competent guidance.
There are a few steps you can take if you are responsible for the safety of those on your roof, such as if you are the owner or occupier of the building, to meet those responsibilities and reduce the chances of a serious incident occurring.
If these simple steps are ignored then serious injury, or worse, can occur.
Never assume a roof is safe to walk on unless you are certain it is not fragile having taken all reasonable precautions.
Don't step out onto a fragile roof yourself, or expect your employees to do so, without carrying out a thorough risk assessment and selecting the appropriate control measures to either prevent falls or reduce the consequences should a fall occur.
You don't necessarily have to go out onto a roof for work like gutter cleaning, inspecting or surveying. These can often be done from ground level, or using a mobile elevating work platform (MEWP), or a tower scaffold. Short duration work can often be done using a secured ladder or one with a 'stand-off' device.
Never walk along the line of fixing bolts above supports, or along the ridge. Would you walk along a tightrope?
Make sure whoever you ask to do work on a fragile roof (whether a company or an individual) is experienced and aware of the risks.
Ensure the person or company carrying out the project time to plan the work - even in 'emergency' situations - and tell them about the type, condition and history of the roof as well as its accessibility inside and outside.
Ask them to describe verbally or in a method statement how they will do the work.
Be prepared to stop the work if the contractors don't keep to their method statement or the work looks unsafe. If you're not sure, stop it as soon as you can.
A 48-year-old worker plummeted to his death after falling through the fragile roof of a warehouse whilst cleaning the guttering. A HSE investigation discovered his employer had not provided any safety equipment to prevent falls.
The client, a logistics firm, knew the roof was fragile, but ignored its own health and safety guidelines and allowed the work to continue. Both the client and the employer were prosecuted. The client was fined £250,000 and had to pay £20,000 costs. The employer received a four-month prison sentence, suspended for one year.
Even after meeting all of your responsibilities, falls through fragile roofs can still happen, especially in industrial settings. To combat this, Roof Edge supplies the Board-Walk system, a lightweight, portable open mesh walkway which is designed to provide safe access from the eaves to ridge by spreading the weight across the support battens. This keeps workers elevated from the dangers of fragile roof panels and unstable skylights.
Ideal for short duration roof maintenance, the Board-Walk system is perfect for fast-paced factory and warehouse settings.
For more information on our Board-Walk system, or for more advice on working on or near fragile roofs, call us on 0141 949 1014 or use our online contact form.