latest news
How to ensure safe maintenance at height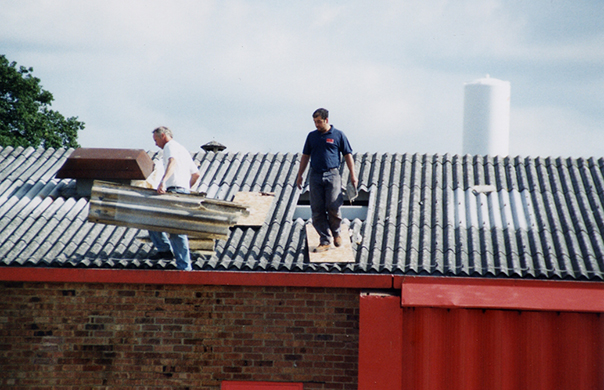 By Mark Dolan, General Manager Roof Edge Fabrications
Now that Spring is upon us, many businesses will be starting to plan external repair and maintenance work on their properties. More often than not, this will involve work at height. This may be simple tasks such as clearing guttering, sweeping away fallen leaves or involve more complex work such as roof repair, but whatever the work, it's essential to remember that it must be planned and supervised properly to make sure that it's carried out safely
What Are Your Duties?
Companies have a duty under the Health & Safety at Work Act 1974 to ensure the health and safety of their own employees and anyone else, such as contractors, who may be carrying out this work on their behalf. This means that if you contract someone to work at height, you are legally bound to make sure that the person/company is competent and that the correct safety measures are in place before any work is carried out.

You can make sure that those working at height are safe by carrying out a risk assessment. If access to the roof is needed, then think about frequency. The HSE states that accessing a roof just twice a year is considered a frequent activity.
Once you've completed the risk assessment and determined that the work at height is unavoidable, then you must make sure you provide a safe working environment. The Work at Height Regulations have a clear hierarchy of controls and suggested equipment solutions for working at height. The preferred solution is always to remove the need to work at height but understandably this is not always possible or practical so collective measures such as scaffolding, guardrails or safety nets should be the first consideration. If these are not suitable then personal measures involving the individual wearing PPE such as harnesses and clipping on to an anchorage point or system should be used. However, if personal measures are to be used, they should only ever be used by those who have been trained to work at height safely and with the proposed system. You will also need to make sure that appropriate rescue plans and procedures are in place in the event of an accident.
Are They Competent?
Competency is an issue I discussed in a previous Blog Checking on Competency and is a vital factor of any work, especially work at height as this is by nature extremely dangerous. Whenever you contract someone to carry out work at height you must check that they have adequate training and supervision and be competent to carry out the work. Always check on their credentials and ask for their method statement so that you can check that they've assessed the work properly and intend use the appropriate safety measures. Never just assume that they'll carry out the work safely.
Ensure Safe Maintenance
Whatever the work, whether it's simple tasks such as clearing guttering, sweeping away fallen leaves or more complex work such as roof repair, always make sure that the work is planned, supervised and carried out safely by competent people.
If you're ever in any doubt about competency to work at height or are not happy with the proposed methods of work, don't proceed - seek professional advice.