latest news
Roof top danger zones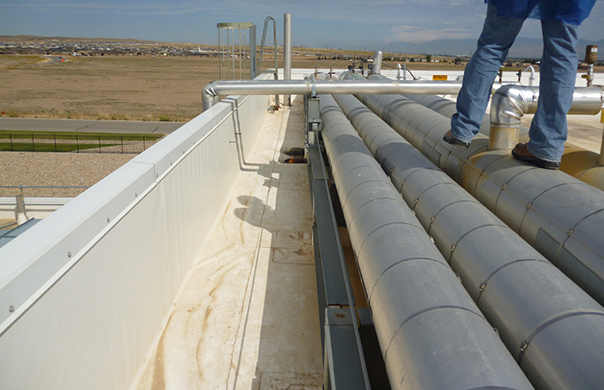 By Mark Dolan, General Manager, Roof Edge Fabrications
Last week I looked at common areas you should look at when assessing safe access to the roofs for both employees and sub-contractors, in particular the common danger areas when it comes to access points and unprotected edges.
This week I'm giving an overview of how to ensure people are safe once they're actually on the roof and need to access areas for work.

Rooftop Walkways
When assessing access requirements to a roof, you need to think about why people are going onto the roof and where they may need to go once they're on the roof. When you've answered the questions of 'why' and 'where', you then need to think about the actual path they'll take once on the roof.
For example:

Seams, crown or valleys on standing seam and metal profile roofs can

present trip hazards so is there a level walkway for the person to walk on?

Is access to the leading edge prevented or restricted on a flat roof?

Are you using the safest path? For example if you have to walk near to

the edge of the roof because there's ductwork on the roof, you could install a step-over or platform over the piping to provide a safe path that's away from the roof edge.

If the path takes people near to fragile materials such as rooflights,

you should consider rooflight covers in order to protect those accessing the area.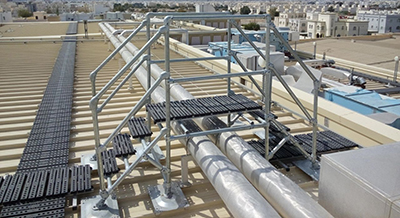 If access is required throughout the entire roof, you will need a more comprehensive system such as edge protection. When work is required at height, collective protection such guardrails are the preferred solution in the hierarchy of control. If these are not possible then fall protection such as life line systems could be considered, but this should only be used by those who are competent and have sufficient training on the correct use of the system as well as general work at height and rescue training.
Use your common sense
Building owners and anyone responsible for people at a premises need to make sure that work can be carried out safely, especially when it involves work on roofs. I've only provided an outline of what you need to consider in this Blog series, there will be other areas you need to think about, but hopefully I've given you an idea of what you need to look at if your employees or contractors are accessing your roofs.
The main thing to remember is to use your common sense; if something looks unsafe then it probably is unsafe. However, if you're ever unsure, always seek professional advice.

Related Posts
Access points and unprotected roof edges - rooftop danger zones