latest news
How to provide DDA compliant handrails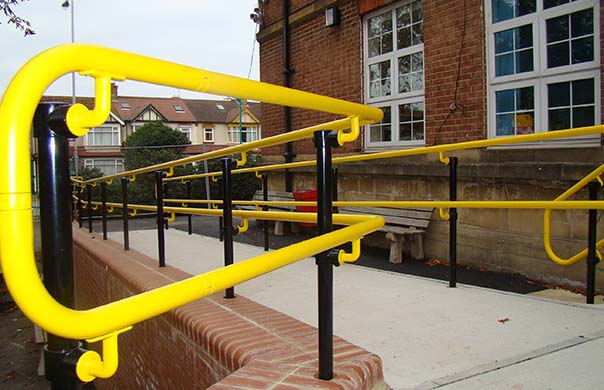 By Mark Dolan, General Manager, Roof Edge Fabrications
The Disability Discrimination Act 1995, which has now been replaced by the Equality Act 2010, required that reasonable adjustments be made to public buildings to ensure that people with disabilities are not unfairly discriminated against within the built environment.
It is estimated that disabled people contribute to over £80 billion a year to the UK economy and account for around 20% of the customer base. When you consider these figures, it clearly makes good business sense for commercial and public buildings to ensure that they are fully accessible to the disabled.

A Guide to DDA Compliant Handrails
Handrails provide a safe means of access for all, but particularly for those with a disability and the elderly who may find it difficult to negotiate changes in level such as up or down steps.

If the steps are wide, handrails are ideal for dividing the flight into channels, making them easier to negotiate. When the steps are wider than 1800mm, it is recommended that handrails are installed in channels between 1000 and 1800mm. If the flight of steps has two or more risers, then you should ideally provide a continuous handrail on either side. When the stairway has two or more flights separated by landings, you should provide a continuous handrail throughout the series of the flight if possible, as shown in the following image.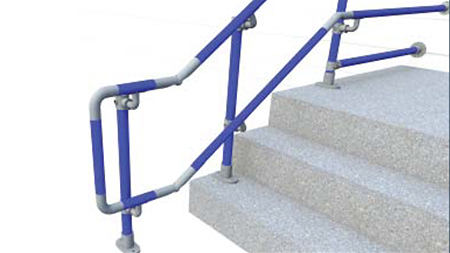 Height of DDA Handrails
If you're providing DDA compliant handrails, they must be between 900mm and 1.1m in height and should extend the width of one stair tread and then level out for at least 300mm.

A lower rail should also be installed at 600mm to provide handrailing for children or those who are short of stature.
Designing a DDA Handrail
When designing a DDA handrail, height is not the only consideration, the handrail design should also:
be a continuous smooth surface that's not cold to touch

be circular (40 – 45mm diameter) or oval (50mm

width) for ease of grip
offer a visual contrast with the surrounding area
not be

highly reflective

terminate in a way that does not pose a rise of

clothing being caught
A fitting approach to DDA access
When you take into account the requirements of legislation such as the Equality Act and the number of people who access to commercial and public buildings, companies need to make sure they provide a handrail system which the disabled, children, the elderly and even able-bodied adults can benefit from.
Fittings such as the Kee Access range provide a quick and simple means of ensure access for all. I've only outlined just a examples when it comes to handrail systems for external stairs, for further information and details of other applications, please see our Guide to DDA Compliant Handrail or call us on Tel: 0 141 949 0998.
Related Posts
Are fittings better than fabrication?
Why use Kee Klamp and Kee Access fittings?