latest news
The benefits of collective edge protection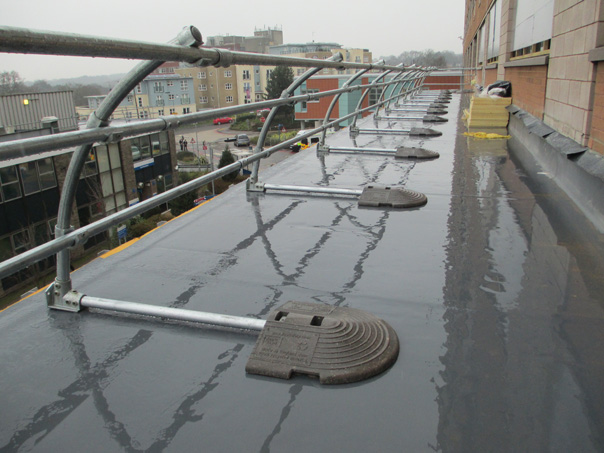 When working at height, ensuring the safety of everyone involved should be of paramount concern. According to the hierarchy of controls, if work at height cannot be averted, then the second most important thing to consider is collective edge protection.
The most common form of collective edge protection - collective meaning not requiring those involved to actively use it - is guardrails. This is preferable to personal protection, such as lifelines and anchors, which require training.
Depending on the use of the building, the system specified will be different. For example, industrial buildings probably won't require a permanent system in place. Alternatively, a shopping centre where access to rooftop plant, such as air-conditioning, is routinely required, will demand that type of solution.
However, a traditional public building, where aesthetics and period charm are important, will need a more permanent system that is unobtrusive and does not affect the aesthetic of the building.
Due to the many different scenarios in which guardrailing such as KeeGuard could be required, Roof Edge offers many different types to suit.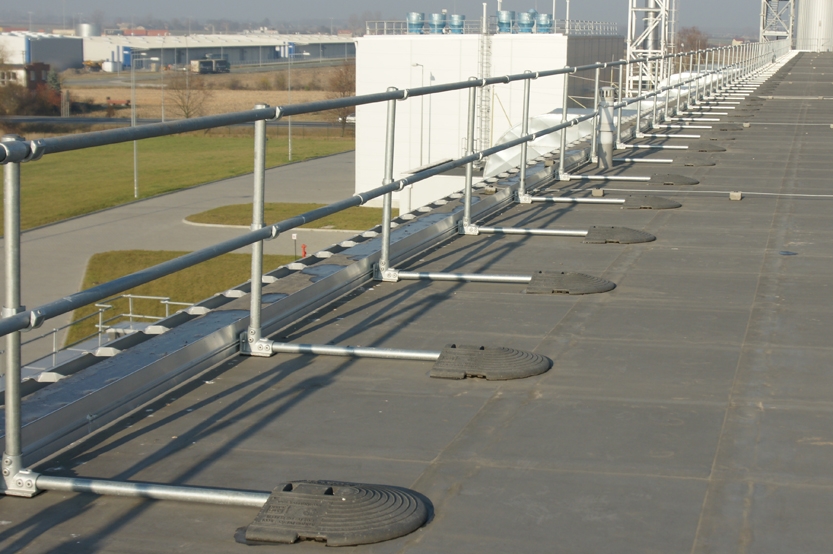 KeeGuard
KeeGuard provides a freestanding solution which does not require fixing into the roof's structure or membrane and is suitable for installation on virtually any flat roof up to a 10° slope. KeeGuard is fully tested and meets or exceeds current rooftop safety requirements, including EN13374 Class A. It provides collective edge protection for those working on a roof at any given time, with a proven counterbalance system which does not penetrate the roof membrane.
The modular design allows for easy reconfiguration on site if necessary, and the system is suitable for use on concrete, asphalt, PVC membrane and felt roof surfaces.
KeeGuard Foldshield
There are times when a collective edge protection solution is required without detracting from a building's aesthetics. In these cases KeeGuard Foldshield provides the ideal solution.
KeeGuard Foldshield features the same benefits as regular KeeGuard, however the system's unique hinged base foot allows it to be set vertically at 90º and then folded down flat onto the roof when no longer required.
KeeGuard Foldshield has a maximum bay size of 3m and can be used in both restrained and unrestrained applications.
KeeGuard Topfix. Credit: Roof Edge
KeeGuard TopFix
KeeGuard Topfix provides collective edge protection for metal profile and standing seam roofs up to 45°.
The guardrail system is available in galvanised steel and aluminium finish and comprises a specially designed powder coated base plate, with multiple fixing centres, enabling the systems to be installed on a wide variety of roofs.
KeeGuard Topfix is an 'off the shelf' product, making specification easier and removing the need to fabricate a different solution for each site, minimising site visits and down time.
The base plate is fixed directly to the profile sheeting using non-penetrative 2 part clamps. Rivets and butyl sealing strips are used to fix the system to profile roofs, ensuring minimal penetration and maintaining the roof's integrity.
KeeGuard Premium. Credit: Roof Edge
KeeGuard Premium
KeeGuard Premium features the same modular, free standing design as KeeGuard, but does not require counterweights along the full run of the system. This provides the ideal solution for areas where traditional counterweights are unsuitable, such as on roofs with limited space or where potential trip hazards are a concern.
The collective protection system is suitable for both temporary and permanent edge protection applications, and features unique 2-part interlocking recycled PVC base weights which have been designed for ease of manual handling. The weights can be split in two to allow a single person to carry them safely, or they can be carried completely assembled by two people using the specially designed moulded handle.
Whilst the KeeGuard system is one of the safest and most effective on the market, it must still be inspected annually by a trained and qualified person in accordance with current standards.
If you have a collective edge protection system in place and require recertification, or if you want to enquire about a system installation, then get in touch.